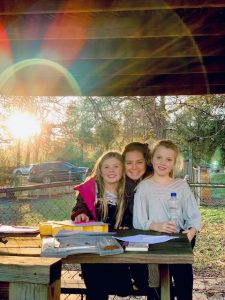 Starting Points provides after school pick up at Farragut Primary, Farragut Intermediate, and Hardin Valley Elementary schools.   The after school program offers children a variety of activities to choose from as well as a place for quiet time and homework.  There are several interest and activity areas open around the room.  These include housekeeping, arts and crafts, computers, dollhouses and Barbie doll areas, building/blocks/tracks, music, woodworking, Nintendo, Play station, library and the homework areas.  Staff provide teacher directed activities combined with free play to help develop creative expression, character development, and independence.
Starting Points is open on days that public schools are closed for in-service and most holiday/vacation breaks. The Center is closed on all major holidays. There is an additional charge if your child attends in-service and holiday/vacation breaks. Lunch and two snacks will be provided when children attend Starting Points for the full day.
Celebrating Over 20 years
There are no words to adequately express my gratitude for this daycare/preschool. They have loved and cared for my children beyond any expectation I had.
Primary Communities Served
Ball Camp
Bearden
Beaumont
Cedar Bluff
Concord
Farragut
Fountain City
Hardin Valley
Karns
Knoxville
Lonsdale
North Hills
North Knoxville
Norwood
Powell
Ramsey
Ridge Brook
Ridgedale
Seymour
Solway
South Knoxville
Topside
West Hills
Western Heights